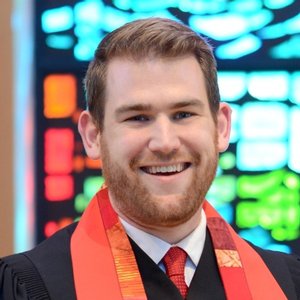 Rev. Owen Gray most recently as the Associate Pastor at St. Barnabas Presbyterian Church in Richardson, TX, a suburb of Dallas. He and his wife, Grace, and daughters Ruth and Rory (ages 6 and 2) have lived in Texas since 2019. Grace is a pediatric nurse practitioner who practices at an adolescent health clinic in Far North Dallas.
While Texas has been home for the last four years, Owen was born and raised in Kansas City. He graduated from Shawnee Mission East High School, and majored in political science and religious studies at the University of Nebraska. He attended Union Presbyterian Seminary in Richmond, Virginia, and before moving to Texas served as a pastoral resident at Second Presbyterian Church in Indianapolis.
Owen's faith was first formed in Heartland Presbytery. He grew up attending Village Church, and grew up going to camp at Heartland Center. Owen served as a counselor at Heartland for three summers during college, and was ordained under the care of this presbytery.
His passions include time with family and friends; good books, good podcasts, good music, and good coffee; time outdoors; and watching Huskers, Chiefs, and Royals games as often as he can.