Contemporary Service - 9AM
The Praise Band at First Church is a team of believers that are called not only to worship the Lord but to enhance the worship experience. Music is one of the most significant elements of worship.
Visit on a Sunday and you'll find yourself in a thoughtfully crafted contemporary worship experience that serves to prepare people for God's Word and give voice to our response to Him.
Our repertoire is carefully and prayerfully chosen by our worship leader, Joey Mayo, and ranges from the most current contemporary worship songs to new arrangements of traditional hymns.
The worship band is a team of musicians who serve First Church by leading it in worship through music. As a ministry, we're more than just a band. We believe God is our audience and our mission is to create a safe environment where people can encounter God and respond to Him. Therefore, our measure of success is not merely in how good we sound (although we believe that's important too!), but whether we and those attending Sunday services are being led into an ever deepening communion with God.
If you're interested in joining the Praise Band, please reach out to Joey and let him know how you'd like to praise God in song!
Praise Band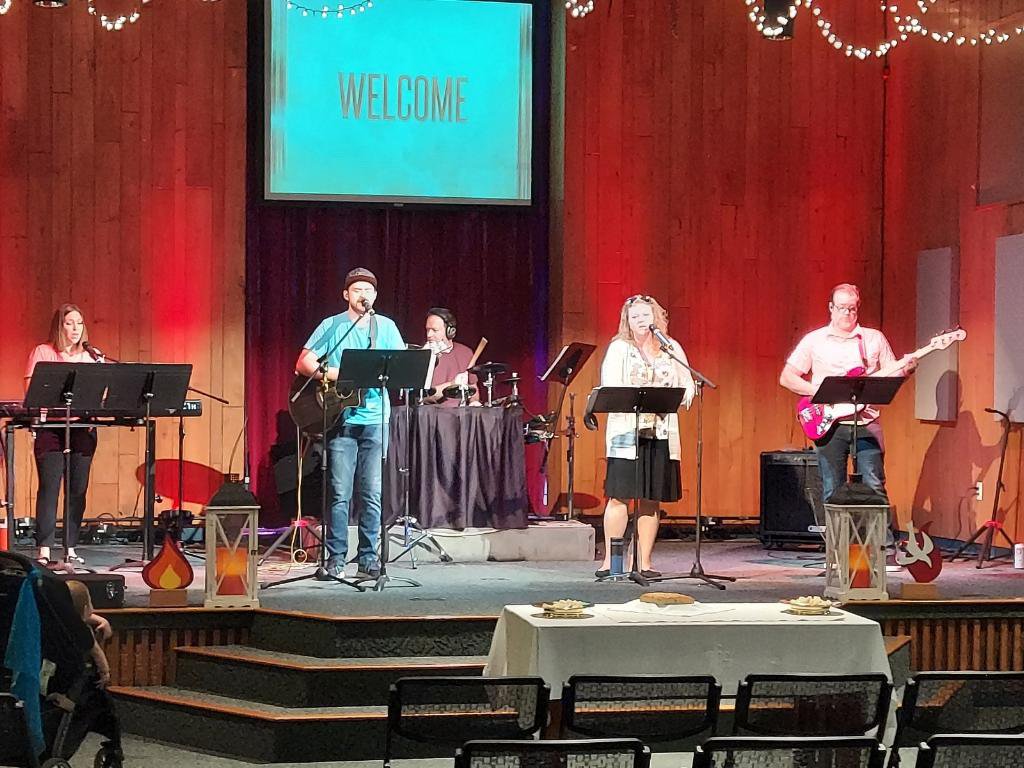 "Psalm 66 (You Are Great)"
"The Goodness of God"
"Build My Life"
"Highlands (Song of Ascent)"
Traditional Service - 11AM Chancel Choir
Raise your voice in song! Come and be a part of the FPCLS Chancel Choir!
We meet on Wednesday evenings from 7:30 to 8:30 and would love to have you join us. Members are warm and welcoming to any and all newcomers who are interested in being a part of the group.
Don't read music? No problem! Come, listen, and learn!
Please contact Jacob Lowry at jacobalanlowry@gmail.com or Sharon Pyburn at Pyburn@firstchurchls.org for more information.
Traditional Service - 11AM Bells
FPCLS is blessed to have two five-octave hand bell choirs.
Spirit Bells meets Monday mornings at 9:15 and Vesper Bells meets Wednesday evening at 6:30. Childcare is provided for both groups.
We would love for you to join us! Please contact Sharon Pyburn@firstchurchls.org for more information.
Bell Choir at Christmas time!