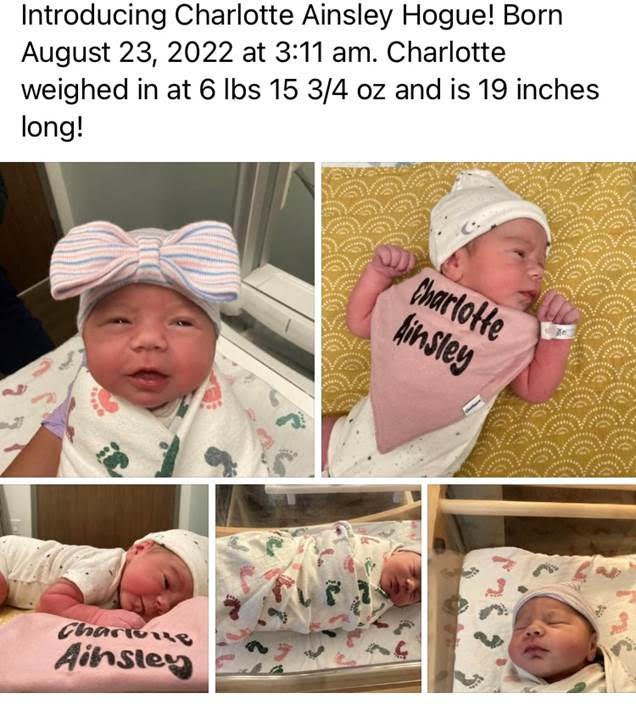 Thank you so much to the First Church Family for your support and encouragement throughout my pregnancy and during my time as your Interim Pastor.
Your prayers helped baby Charlotte get here safely and sustained me during a long and difficult labor and nearly a week in the hospital.
Grateful to everyone who helped put together the sweet card shower, for the notes of love and encouragement, and many gift cards and thoughtful presents. You have each been a gift to our family!
Thanking God and keeping you all in my prayers.
Grace & Peace, Pastor Kate
Midweek Mindfulness
ELIZABETH BIBLE STUDY continues to meet weekly on Fridays at 9:30 am at the church. They are beginning a new book study You Are Never Alone: Trust in the Miracle of God's Presence and Power by Max Lucado. All women are welcome! Contact Carol Phillips for more info.
On Monday, September 26, LIFE LINE SCREENING will return to FPCLS to offer five preventive health screenings. The cost for the five screenings is $149 and will take 60-90 minutes to complete. To register for this screening, please call toll-free 1-888-814-0416 or visit http://LLsa.social/HSC. Flyers are located on the table in the Narthex.
The September Mission Project will support the PRO DEO YOUTH CENTER, a local organization geared toward teenagers in grades 9th-12th, providing after school and Friday night programming in a safe and fun environment. We will collect monetary donations, gift cards ($5-$10 from Walmart, Target, restaurants, etc.) and snack and drink items to help stock their shelves. Pro Deo has a wish list on Amazon and on their website at www.prodeoyouthcenter.org. Questions? Please contact Donna Haines or Bob Davis.
WEDNESDAY ZOOM BIBLE STUDY will begin meeting on October 5 at 11:00 am with Dennis Haines and/or Cliff Horton studying the Book of Exodus. All are welcome. Log on to www.Zoom.us The meeting ID is 921 410 9507 Password 1857
The Mission Action Team has planned a time to volunteer at HARVESTERS (3801 Topping Ave., KCMO) on Saturday, October 15th from 10:30 am to 12:30 pm. We are signed up for 50 people but can take up to 90. We will leave the church at 9:15 am. Transportation will be finalized closer to the event. Also, we will start collecting non-perishable food items starting September 11, 2022. Please place items at the Mission Table. For more information, please contact Donna Haines, Bob Davis, or Randy Stone. This event is in lieu of the Rise Against Hunger event we've done the last several years.
On Sunday, October 30, we are hosting a LAWN PARTY/CARNIVAL beginning at 1:00 pm! We will have food, yard games, an IBEX climbing wall, a special appearance by our favorite hometown carnivore (can you guess who?) and a visit from Justin Pyburn, Conservation Agent, and his dog, Korra. At 4:00 pm we will begin our annual TRUNK OR TREAT event! Decorate your trunk, bring candy to hand out to our little trick-or-treaters and stay for our CHILI COOK-OFF. More information and sign-up sheets will be available soon but mark your calendars now to reserve this day of fun for the entire family!
Mark your calendars for the WOMEN'S HOLIDAY FESTIVAL on Saturday, November 12 from 9:00 am to12:00 pm. If you have a home-based business and would like to participate on this day, please contact Sharon Pyburn.